Interesting in a surgical installation of implants without pain, swelling?
Incredibly precise and quick installation of implants?
Guided Implant Surgery is the option for you!
So far, the installation of implants had been solved by the use of classical surgery which meant making of the cut, fitting and sewing of the surgical wound. Subsequent to this procedure, the patients suffered postoperative pain and swelling, which to some may be stronger or weaker, but still the certain recovery period had to pass, sometimes up to 2 weeks.
Computer-guided implantology provides us with a totally different approach to the implant installation. Without cutting, swelling and pain patients go home and postoperative course is significantly facilitated. As soon as tomorrow patients can return to their daily routine.
The greatest benefit of computer-guided implantology, ie. Guided Implant Surgery, is in the case of total loss of teeth, where the surgical cut and postoperative period was most expressed, and where patients needed 2 weeks for the complete recovery.
The procedure for the Implant Guided Surgery is:
3D orthopan is created in a specific way, which includes recording of the total prosthesis with special markers on the prosthesis. Then, implants are planned in the software – their length, position, and mutual position. Following, Guided Implant Surgery stent is printed in the latest 3D printer that will serve as a guide to the surgical intervention.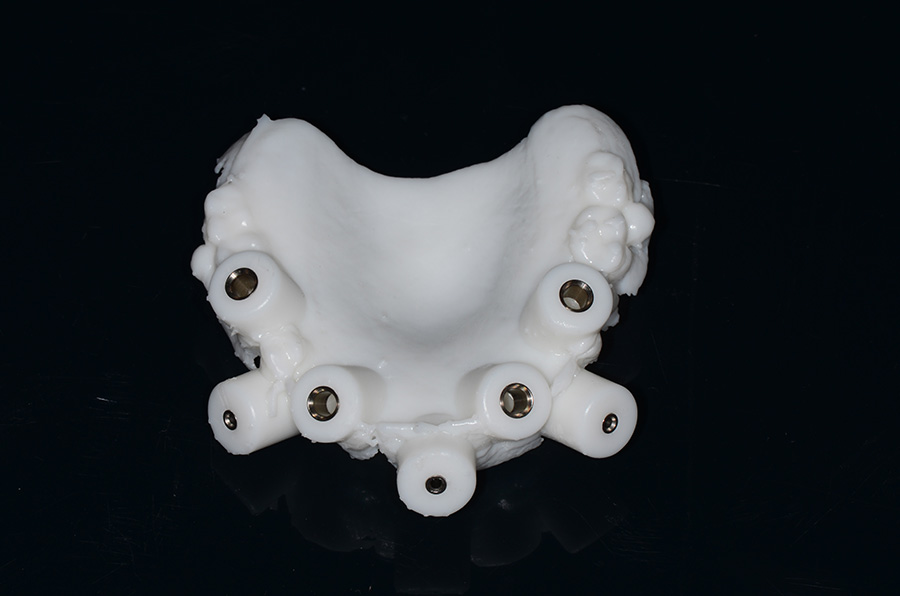 On the day of surgery, first of all Guided Implant is fixed in the mouth with special pins and after that, the tray for implants is being prepared.
If necessary, after removal of the stent small cuts are made in order to verify the position of the implant in the bone.
The whole procedure takes 10-15 minutes and patient can handle temporary work without any problems already the next day.
The biggest advantages of the Guided Implant Surgery are:
• Painless intervention
• Short duration
• Postoperative recovery lasts only one day
• Placing the implant with prior planning of crowns themselves, leading to a much better aesthetics and precision of the work
Price for Guided Implant Surgery is 250 € + making of 3D orthopan.
For complete price list of our services, click HERE.

Dental implants were placed with the use of classical surgery, until now. That encompassed making an incision, implant placement and surgical stitching.
Computer guided implantology gives us a totally different approach to implant placement. No incisions, not swelling and no pain. The patients go home immediately and the postoperative procedure is infinitely easier. The patients can return to their everyday lives.